Kidney Transplant Conversations
is a podcast focused on quality healthcare delivery and the innovative approaches kidney transplant recipients and providers are applying to improve care. The series also addresses health disparities in renal transplant and what can be done to close the gaps. These discussions include important explorations of inclusion, diversity, equity, and access.
We invite you to listen and let Kidney Transplant Conversations keep you connected, informed, and inspired with a constant flow of new thoughts and ideas.
Kidney Transplant Conversations is underwritten by Veloxis Pharmaceuticals, Inc.
All views and opinions expressed in this podcast reflect those of the participants and do not necessarily represent the views and opinions of Veloxis Pharmaceuticals, Inc.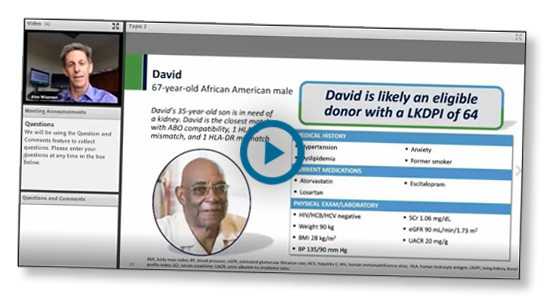 Strategies to Optimize Kidney Transplantation Opportunities
The aim of this program is to engage renal care specialists to discuss the current state of deceased- and living-donor kidney transplantations, including the successes gained in the field over the past 50 years. A leading expert will discuss strategies and best practices to optimize recruitment, engagement, and care of living donors and explore emerging approaches to optimize renal allograft matches and exchange.
Optimizing Long-term Care for Renal Transplant Recipients
The aim of this program is to engage renal care specialists in a dynamic case-based discussion of long-term care in kidney transplantation. A leading expert will explore evolving treatment paradigms, which may help inform care optimization, including strategies for long-term immunosuppressive therapy.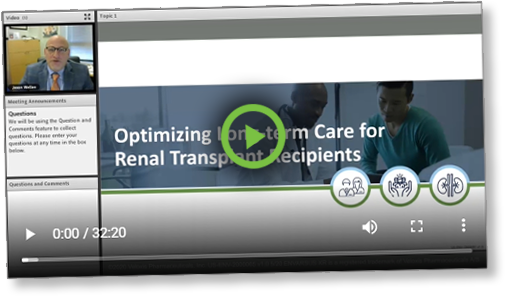 Copyright © 2021 Veloxis Pharmaceuticals, Inc. All rights reserved. US-UNB-2100011 v1.0 9/21